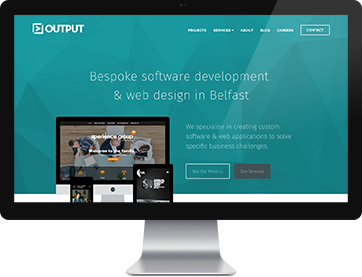 New Decade, New Location, New Name!
2015 marks a new era in the life of Creative Online Media, as we have been known for the last 10 years. This year we celebrate a decade of digital services delivery since our inception back in 2005. This milestone, and our recent move to new, larger premises within The Ideas Factory on Airport Road West, make it exciting times for our team and customers. Our re-brand to Output Digital make it a bit of a hat-trick!
We hope our new name reflects the evolution of our services and team over the years, particularly in relation to our growing software development business. The bespoke software solutions we design and output on behalf of our clients ultimately enable them to manage their outputs much more effectively, increasing productivity, and saving colossal amounts of time and money year on year. We are committed to continually developing this area of our business to meet the ever-changing needs of our clients in this fast paced digital world.
Although some things have changed a little, our core services and values remain the same. The high standard of customer empathy, service, competitive pricing and the friendly can-do attitude our clients experience as we work together remain the same.
We hope you will soon avail of the opportunity to visit us in our new creative space, if you have not yet had the opportunity to do so already.
If you have any questions please feel free to get in touch.
Best Wishes
From all the team at
Output Digital
Visit our new site